Rig-Up Services carries a 0.50 EMR plus a 0.0 TRIR for 2011!
The Rig-Up Services –
Safety First VIDEO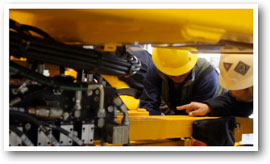 Our company-wide commitment to safety and proven safety procedures show in our exceptional safety record and are evident on all our projects.
A Pro-Active Safety Program
Workplace safety should be priority one for companies in the electrical and fabrication industry. We constantly research for and implement cutting edge safety practices. A "good" safety program is not an option for us here at Rig-Up Services, Inc.  It's about doing whatever it takes to prepare our people and prevent potential hazards.  The jobsites and potential hazards encountered are ever-changing and so is our Safety Culture.  This is especially true when the distinction between having a good safety program and an outstanding one could mean the difference between going home safe or having a safety incident.
Safety Culture
"Attitude Reflects Leadership."  This is our attitude when it comes to our Safety Culture.  Management's priority is making sure all employees are aware of their total commitment to safety.  Our Safety Program is based on both corporate and individual responsibility with a proactive approach to minimize safety hazards. Having safety our #1 priority takes vision, commitment and hard work.  It starts with our "Corporate Code of Ethics."  This serves as a physical representation of our attitude and commitment to safety. It is the cornerstone of our company and guides Rig-Up Services in all the business practices and procedures.
Safety Management
At Rig-Up Services, safety begins at the top. Management often attends and leads jobsite JSA and Pre-Job Safety meetings.  Rig-Up Services' management wants to ensure every employee is accountable and responsible for their safe actions as well as safe performance at their jobsites.
Safety Expectations
Rig-Up Services strives to ensure all employees know what is expected of them in regards to safety. When an employee is hired, they are required to read and understand our safety manual, have face-to-face orientation meetings with Safety Staff and view Corporate Safety Training Videos with participation in follow-up question and answer sessions.
Rig-Up Services views all employees as a part of the Rig-Up Services family and as such, are made fully aware of the commitment and vigor with which Rig-Up Services approaches safety. 
Safety Results
Having achieved a worker's compensation risk modifier ("EMR" or "EMOD") of 0.50 is no small feat. To explain, a experience modifier of 1.00 represents an company whose actual losses closely matched the expected losses for a business in their industry. If the actual losses were greater than the expected losses, the experience modifier would be greater than 1.00; conversely a modifier less than 1.00 means actual losses were less than expected. In order to have obtained a rating of 0.50, Rig-Up Services worked diligently to establish safe work environments and train employees on safe work practices. Rig-Up Services is committed to working safely and is constantly seeking ways to improve on its exceptional safety record.